While on  my latest trip to Mexico, yep, the one where I took the Margarita class, I decided to further my education with a class on tequila. Yes, anything to make my occasionally excessive drinking seem more acceptable :).
I'm not going to say too much about tequila as I'm sure you want to get to the recipes, but at the very least I thought I had better explain the different types so that when you're perusing your local watering hole and/or liquor store you will know what you're looking at.
Tequila blanco: a product that hits 55% alcohol content after distillation, with the alcohol content being reduced with water; not aged; typical tequila used for cocktails (e.g. the Margarita)
Tequila joven ('young'): a tequila Blanco that may be mixed with tequila Reposado or sweet food colouring to provide it's colour; not aged; not that common (I couldn't actually find any at any Ontario liquor store) which is understandable, considering it's just a blanco trying to pretend it's a reposado!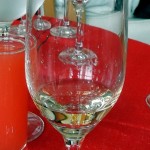 Tequila reposado: aged for 2-11 months in white or red oak; oak-aging mellows this type without killing the agave, as happens frequently with añejo tequila; good for sipping, good for higher-end cocktails
Tequila añejo: aged for 1-3 years in white or red oak; sipping tequila
Tequila extra añejo: aged for 3 – 8 years in French oak; definitely a sipping tequila!!
Interesting fun fact: The standard glass used to drink tequila neat (not the glasses shown above) is a narrow shot glass called a 'caballito' ('little horse' in Spanish), originally called a 'cuernito', the modern version of the original hollowed-out cow or bull horn used many years ago in cantinas or mezcal factories. Neat, huh?
Okay, now that our little lesson is complete, it's time to start mixing up some tequila cocktails. These are all tried and true recipes (I even tried a couple twice, you know, for quality control :)), starting with yet another margarita recipe, but the best margarita I have ever had (Pineapple Cilantro Lime). I hope that you enjoy them!!
Pineapple Cilantro Lime Margarita
1/2 cup fresh pineapple chunks
1 cup tequila blanco
2 tbsp. cilantro leaves
1/4 cup lime juice
1/4 cup lemon juice
1 1/2 cups pineapple juice
1 cup Triple Sec
1/4 cup superfine sugar
Rim 4 margarita glasses with a wedge of lime or lemon and dip in the sugar (use a small saucer or plate for this) and set aside. Soak the pineapple chunks in the tequila for 30 minutes. Put 1 cup crushed ice, the cilantro and the soaked pineapple chunks (reserving the tequila) in a pitcher. Add the three juices and stir. Add the tequila and triple sec, stirring again. Pour into the prepared margarita glasses, adding ice if desired.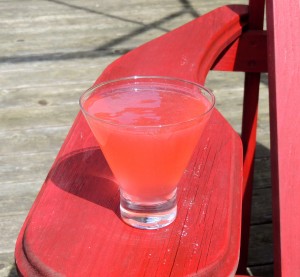 Passion Cocktail
2 oz. tequila reposado
3 oz. cranberry juice
1 oz. lime juice
2 oz. Grand Marnier
Add tequila and both juices to a cocktail shaker have filled with ice. Shake and strain into a chilled martini glass. Pour in the Grand Marnier and garnish with a lime wedge if desired.
Note: Think 'Cranberry Margarita'… yummy!!!
'Original' Tequila Sunrise
2 oz. tequila reposado
1/2 lime
1 1/2 tsp. grenadine
1 tsp. crème de cassis
soda water or seltzer
Add the tequila to an ice-filled highball glass. Squeeze the lime half into the glass and drop in the spent shell. Add the grenadine and crème de cassis, top off with the soda water or seltzer, and stir briefly.
Note: This was created by Gene Sulit in the 1930s or 1940s in Phoenix, Arizona. No OJ, no way, no how.
'Modern' Tequila Sunrise
2 oz. tequila blanco
4 oz. freshly squeezed orange juice
1/2 oz. grenadine
orange slice
maraschino cherry
Add the tequila and juice to an ice-filled highball glass. Stir. Use a spoon to pour the grenadine onto the glass wall to guide it down with minimal mixing. Garnish with the orange slice and maraschino cherry.
Note: This was created in the early 1970's by Bobby Lazoff and Billy Rice in Sausolito, CA.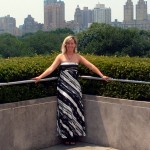 Next up on mixmentor.net: To celebrate my upcoming trip to NYC for the Manhattan Cocktail Classic (May 17 – 21) I decided to do a bit of research into the Manhattan cocktail. Get your taste buds ready for the classic and the not so classic!