For the past few months we've been working on our latest mobile app, *Meatopia* – Get your BBQ On!. Well folks, it's finally here, just in time for BBQ season. So, what I've done here is paired three of the sides featured in the app with three of the cocktails. If you like what you see, please go to the bottom of this post for links to the app on the different platforms! Oh, and did I mention it's free??
Pairing One: Chargrilled Oysters & a Bourbon Sour
Chargrilled Oysters
1/2 cup unsalted butter, softened
1 tbsp garlic, minced
1/4 cup pecorino romano, grated
1 tsp flat-leaf parsley, minced
pinch kosher salt
pinch cayenne pepper
pinch white pepper
dash lemon juice, freshly squeezed
1 dozen fresh oysters on the half shell, shucked
1/2 cup pecorino romano (for serving)
fresh parsley, chopped
french bread/baguette
Using a whisk, combine all ingredients, not including the oysters or the cheese for serving. Heat a charcoal or gas grill until very hot. Top each oyster with the prepared butter mixture, shared equally, and place on the hottest part of the grill. When the oysters puff up and get curly on the sides and the edges turn brown, about 5 minutes, take them off the grill. Top each oyster with some of the pecorino romano, garnish with chopped parsley and serve with crusty french bread (for dipping) and lemon wedges.
Bourbon Sour 
2 oz bourbon
1 oz lemon juice
1 tsp superfine sugar
cherry and orange or lemon slice
Shake all the ingredients in a shaker with ice and strain into a whiskey sour glass. Garnish with the fruits.
Pairing Two: Sweet BBQ Beans & a Gin Rickey
Sweet BBQ Beans
5 (398ml) cans beans with tomato sauce
1 1/2 medium onions, coarsely chopped
1 cup brown sugar
3/4 cup maple syrup
1/2 cup butter
1/4 prepared yellow mustard
1/2 cup ketchup
1/4 cup worcestershire sauce
1/8 tsp cayenne pepper
1/8 green pepper, finely chopped
Place all ingredients into a large pot and cook over a low temperature for 2 hours on a BBQ grill or on a stove top, stirring occasionally to prevent sticking. Alter the amount of cayenne to taste.
Gin Rickey
1/2 lime
1 oz gin
soda water
Squeeze lime juice into an old fashioned glass filled with ice cubes. Drop in spent lime shell. Add gin. Fill with soda. Gently stir.
Pairing Three: BBQ Deviled Eggs & a Batida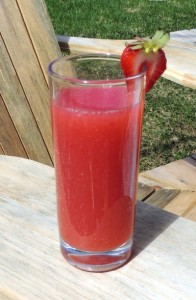 BBQ Deviled Eggs
6 hard-boiled eggs
1 1/2 tbsp mayonnaise
2 tsp yellow mustard
2 dashes hot sauce
1 tbsp barbecue sauce
salt
pepper
green onions, chopped
paprika
Cut the eggs in half lengthwise and place yolks in a small bowl. Mash with the mayonnaise, mustard, hot sauce and barbecue sauce. Add salt and pepper to taste. Spoon (or pipe) into egg whites and sprinkle with green onions and paprika.
Batida
1 oz Cachaça
5 strawberries, or 1 oz strawberry purée
1/2 oz simple syrup, or equivalent fine sugar
Purée strawberries in a blender, if required. Add remaining ingredients and crushed ice or ice cubes. Blend until the drink is smooth and pour into glass. Garnish with fresh strawberries, and serve. If you don't have cachaça, vodka may be used.

Where to find *Meatopia* – Get Your BBQ On!: