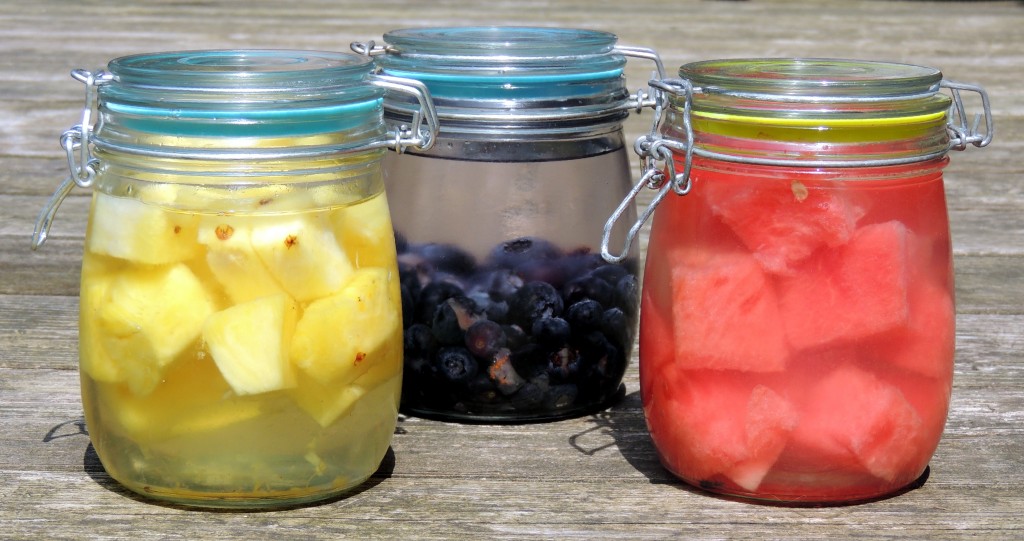 I LOVE fruit and as you might have imagined by now, I kinda like my booze too :). So, with summer finally here I thought it was high time to get my infuse on. All is takes is some ripe and in season fruit, some vodka/gin/tequila/your hooch of choice, and wicked summer cocktails will be right around the corner. Go with the suggestions I have for both the infusions and the cocktails, but feel free to add other flavour combinations that you think would work (e.g. rosemary with blueberry, peppercorns with strawberry, cilantro or jalapeño with pineapple, vanilla bean with pretty much any fruit). Have fun!!
The Ingredients:
Watermelon Vodka
750ml vodka
1/2 small watermelon, cubed
Blueberry Vodka
2 pints blueberries
750ml vodka
Special instructions: Before setting aside to infuse, lightly crush the blueberries with the back of a wooden spoon
Strawberry Vodka
2 pints (~1 1/4 lbs) strawberries, hulled and quartered
750ml vodka
Pineapple Tequila
1 pineapple, peeled, cored and cut into 1″ pieces
750ml tequila blanco or reposado
Note: Most of you won't be able to get pineapples at your farmers market (us included) but I had to include this recipe as it's just so friggin' tasty!!
Cucumber Lemon Gin
2 cups thinly sliced, peeled English cucumber (or seeded field cucumber)
500ml gin
1 slice lemon zest
General Directions:
Fill a clean resealable glass jar or bottle with your prepared fruit/veggies. Top off with liquor and put on the lid. Place in a cool, dark place until the flavours infuse (4-6 days is usually fine). Shake the jar every 1 or 2 days. When you're happy with the flavour, strain the liquor through a cheesecloth lined sieve and pour infused spirits into a clean resealable glass jar or bottle; store in the fridge.
Note: Your infusions will only be as good as your fruit is, so wait until the fruit is at it's peak in season if you can. I was so anxious to get this post out there that I ended up with an imported watermelon that wasn't as ripe as I would like (hence the pale colour of the Watermelon Basil Cooler (below)).
The Recipes:
Watermelon Basil Cooler
3 large basil leaves
1 slice fresh ginger
1/2 oz. simple syrup
2 oz. Watermelon Vodka
1/2 oz. freshly squeezed lime juice
ginger ale
In a mixing glass or shaker, muddle the basil, ginger and simple syrup with a muddler or the end of a wooden spoon. Add the vodka and lime juice, and fill with ice. Shake well and strain into an ice-filled rocks glass. Top with the ginger ale and garnish with a watermelon slice.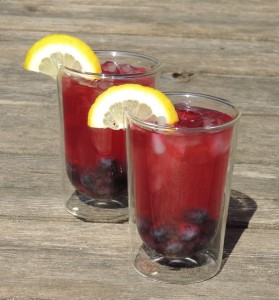 Blueberry Lemonade
1/4 cup fresh or frozen (and thawed) blueberries
1/2 tsp. sugar
2 oz. Blueberry Vodka
4 oz. lemonade
In a small bowl, mix the blueberries with the sugar and put into a highball glass. Fill glass with ice and top with the vodka and lemonade. Stir well and add a lemon slice for garnish.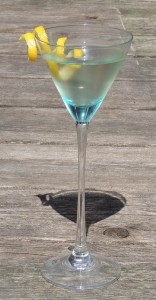 Cucumber Martini
2 oz. Cucumber Gin
1/4 oz. dry vermouth
lemon zest
Fill a shaker with ice and add the vermouth, stir once, then pour in the cucumber gin. Stir carefully but rapidly for 20-30 seconds until ice-cold. Strain into a chilled martini glass and garnish with the lemon zest.
Note: The glass is actually blueish, not the drink itself (it has a light yellow tinge to it)
Strawberry Sunshine
1.5 oz. Strawberry Vodka
1 oz. pineapple juice
1/2 oz. orange juice
3 oz. lemon lime soda
Fill a shaker with ice and add the first 3 ingredients. Shake vigorously and strain into an ice filled highball glass. Top with the lemon-lime soda and stir. Garnish with a twist of lime or lemon.
Pineapplecello
1 1/2 oz. Pineapple Tequila
3/4 oz. limoncello
juice of 1/2 lime (~1/2 oz.)
Add all ingredients to an ice-filled shaker. Shake well and strain into an ice-filled rocks glass. Garnish with a lemon slice or pineapple segment.