Baby, it's cold outside. Baby, it's really, really cold outside. So, to try and help shake those winter doldrums away, we created 'Island Time', our latest and greatest MixMentor collection. It's chock full of tropical-themed cocktails to help those of you that can't jet off to some exotic locale, pretend that you can!
Before I show it to y'all, I had to twist that rubber arm of mine and try out some of said cocktails with my honey on a recent trip to Nassau (hence the plastic glasses and lack of snow!!) earlier this year. Here's a snapshot of what's in store for you:
On the Rocks Margarita
2 ounces white tequila (tequila blanco)
1 ounce orange liqueur (Cointreau or Triple Sec)
1 ounce lime juice
Salt for garnish (e.g. Maldon sea salt)
Moisten rim of a margarita glass with lime. Rotate rim against salt, to salt the outside not the inside of the rim, and fill the glass with ice. Combine ingredients in an ice-filled shaker and shake until cold. Pour contents of shaker into glass and garnish with a lime wedge.
Tequila Sunrise
1 1/2 ounce white tequila
1/2 ounce grenadine
4 ounces freshly squeezed orange juice
Fill a  highball with ice, add tequila and orange juice; stir. Slowly pour in grenadine. Before serving, stir very gently once.
Blue Hawaii
3 ounces pineapple juice
1 ounce sweet & sour mix
1/2 ounce blue curaçao
3/4 ounce vodka
3/4 ounce white rum
Put ice in a tall glass, add ingredients in order, stirring gently, garnishing with a pineapple slice.
Get your free copy of MixMentor's Island Time here!!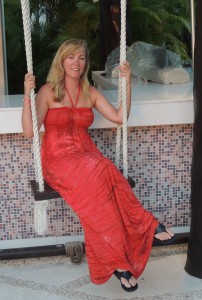 Next up on mixmentor.net: Margaritas and more Margaritas! Lots of useful info from a course we just took on a trip to the Mayan Riviera and several new, interesting and crazy tasty recipes for you to try!